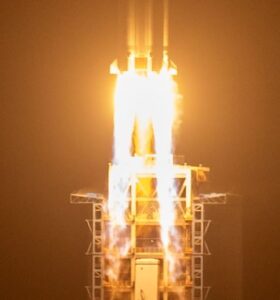 As China invests in its space program, scientists have identified helium-3 (He-3), an ideal fuel for nuclear fusion reactors, as a major subject of interest.
According to CGTN, a Chinese English-language news source, Chinese scientists say the Earth possesses roughly 30 kilograms (about 66 pounds) of the helium isotope. Deposited by solar wind, the substance is abundant on the Moon's surface — about a million metric tons. That's enough to power the Earth for a thousand years.
Extracting He-3 from the lunar regolith does pose a challenge. The material would have to be heated to about 600 degrees Celsius before being extracted, packaged and transported back to Earth.
China's Chang'e-5 lunar space mission, a 23-day operation launched Monday, aims to bring back regolith from the Moon.
"There seems to be another wave of interest of going to the moon, both by the United States and China and there may be other countries as well," said University of Wisconsin engineering professor Gerald Kulcinski. "And most of these programs have, as part of their goal, harvesting helium-3 for terrestrial use."