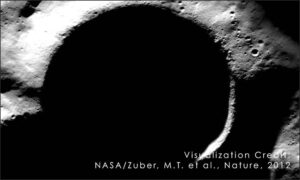 Scientists with the Laboratory for Atmospheric and Space Physics (LASP) a the University of Colorado at Boulder think the Moon may be awash in far more water than scientists previously believed, reports Universe Today.
LASP researchers created computer models to recreate conditions early in the Moon's history. They discovered that ancient lunar volcanoes spewed huge volumes of water vapor, which settled to the surface. In craters near the poles that are permanently exposed to the heat of the sun, the water froze froze. The study suggests that the water could measure dozens or even hundreds of feet thick in places.
"It's possible that 5 or 10 meters below the surface, you have big sheets of ice," says co-author Paul Hayne. "It's a potential bounty for future moon explorers who will need water to drink and process into rocket fuel."
The study builds on previous work that estimated 25,000 square miles of the lunar surface could be capable of trapping and hanging onto ice.