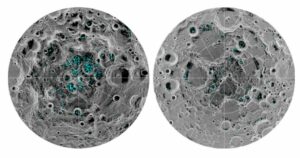 Looking for creative approaches to tap lunar resources to meet the needs of astronauts on the Moon, NASA has reached out to small businesses and nonprofit research institutes for ideas. Working through its small business programs, the agency has winnowed down 409 proposals for Phase 1 development.
Consistent with NASA's goals for Project Artemis, the proposals are focused on extraction and processing of water ice from lunar regolith to create oxygen, drinking water and rocket fuel, according to Universe Today.
Projects to receive funding under the Small Business Innovation Research Program include:
Thermal Management System for Lunar Ice Miners. A proposal from Advanced Cooling Technologies, Inc., of Lancaster, Pa., would "develop a thermal management system that can strategically use the waste heat of nuclear power sources to sublimate water vapor from icy-soil on the moon and use the Lunar environment temperature as the heat sink to refreeze the sublimated vapor within the cold trap container. This minimizes the required electric energy for both ice extraction and vapor collection."
Solar Concentrator Oxygen Reactor with Continuous Heating and Extrusion of Regolith. A proposal from Blueshift, LLC, of Broomfield, Colo., would "develop a continuous feed reactor for rapidly heating lunar regolith to prescribed temperatures exceeding 2,200° C using Concentrated Solar Power (CSP) more efficiently than current state of the art and extracting oxygen through two extraction processes (carbothermal reduction, vapor phase pyrolysis)."
ISRU Collector of Ice in a Cold Lunar Environment (ICICLE). Paragon Space Development Corporation of Tucson, Ariz., would develop "a Cold Trap for collecting and purifying water from sublimation mining of water-ice or filtration thereof from the permanently shadowed regions (PSR) of the lunar poles."
Lunar Ice Mining Using a Heat-Assisted Cutting Tool. Sierra Lobo, Inc., of Fremont, Ohio, would develop a low-energy technique for removing ice from regolith by means of a heat-assisted cutter.
Proposals funded through the Small business Technology Transfer (STT) program include:
Standards for Impure Propellants. Gloyer-Taylor Laboratories, LLC, of Tullahoma, Tenn., would examine the effect of impurities in fuels extracted from regolith on mission-critical systems such as storage, pressurization, thermal management and combustion stability.
Pressure and Low Temperature Tolerant, High Current Density Solid Electrolyte for Propellant Grade Reactants. Precision Combustion, Inc., of North Haven, Conn., would develop a new fuel cell design utilizing solid electrolyte technology that would cycle through very low temperatures, survive storage during lunar night, recover 98% of its performance post-cycling, tolerate substandard propellants without performance loss, and sustain high fluid pressures an vibration loads.