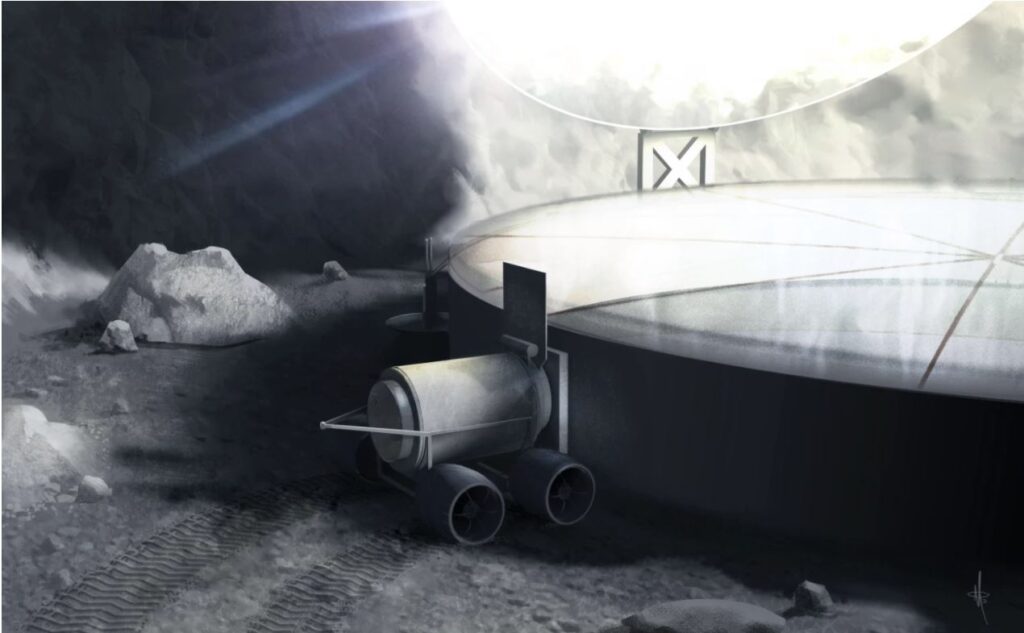 Water is essential to space exploration and colonization. Now that it has been demonstrated that billions of gallons of ice and molecular water are found on the Moon, the challenge is to figure out how to extract it.
In MIT Technology Review, space reporter Neel V. Patel lists the obstacles. Super-cold temperatures and radiation could endanger humans and degrade equipment. Lunar dust sticks to everything, wrecking machinery and posing safety issues to workers in spacesuits. And, of course, astronaut miners would have to be housed and supported on the Moon.
Lunar water comes in the form of tiny icy grained mixed with the soil, mostly in permanently shaded regions of craters in temperatures of 40 K (-233.15 °C). To be useful as a rocket fuel the material, only 5.6% water by weight, would require aggressive processing to rid contaminants.
One proposed method would be to build large towers with concave mirrors on the top that could reflect sunlight into the shadowed regions of lunar craters trapping the water. The energy would heat the lunar soil enough to get the ice to sublimate into vapor. A tent (transparent so the light could get through) would capture the vapor, which could be moved into units where it would freeze back into ice, and then purified at a separate location. Ultimately, the water would be separated into oxygen and hydrogen by electrolysis, and then liquified to the constituents used as rocket propellant.
Although humans have demonstrated the ability to operate rovers and landers that can withstand conditions on the Moon, no one knows if industrial infrastructure would hold up. Writes Patel: "It's not easy to just wake a piece of technology from a 40 K slumber."
The technical limitation that keeps scientists up at night is the purification process. Lacking lunar samples to test, they cannot develop membranes to filter out Moon-specific contaminants. Water harvesting likely will have a high failure rate for years, predicts Phil Metzger, a space technologist at the University of Central Florida. Says he:
I don't think the technologies that people are designing and conceiving of today are going to just work perfectly on the Moon. But I do believe there will be a lot of industrial activity on the moon within several decades.