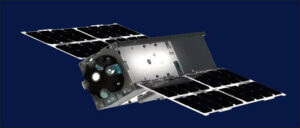 SpaceVR, a San Francisco, Calif.-based virtual reality company, wants to bring solar-system exploration to Earth by using modified GroPro cameras to capture and convey immersive, 3D views from the Space Station. In time, the startup hopes to capture the entire astronaut experience, reports Space.com, from training to launch to spacewalks.Ultimately, the aspiration is to put VR cameras aboard missions to the Moon, asteroids, Mars,  and Jupiter.
"We want to take space exploration where it was meant to go — the whole planet experiencing it together," said SpaceVR co-founder and chief technical officer Isaac De Souza. "When people take their first steps on Mars, there should be a SpaceVR camera there to watch."
As of Aug. 17, 2015, the company's crowdfunding effort had raised about $38,000 out of $500,000 needed to put cameras on the space station and cover the first year of operations.