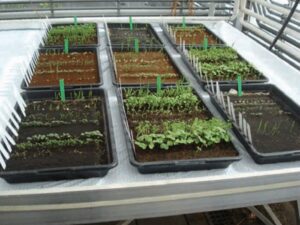 Long-term colonization of the Moon will require settlers to grow much of their own food, and they won't have any soil rich in organic matter to start with. Hydroponics is one alternative. Growing plans in mineral-rich lunar regolith is another.
Dutch researchers with Wageningen University & Research have been testing a variety of vegetables to see how well they fare in regolith — tomatoes, rye, watercress, leeks, quinoa, peas, radish, spinach, arugula and chives.
The researchers couldn't use real lunar regolith, but they created a substitute with similar chemical composition from volcanic ash near Flagstaff, Arizona. (To simulate Martian material, they found ash from Hawaii.) Regolith has only a small amount of reactive nitrogen, a critical element for life, and it can store only 30% as much water as organic Earth soil can.
The researchers set up trays containing the lunar regolith, Martian regolith and Earth soil, watered them each day, and studied the results over five months. Their findings, according to Smithsonian magazine:
Radishes, cress and rye could be harvested and produce seeds.
Tomatoes and peas could be harvested.
Chives and leeks grew slower than normal.
Quinoa produced flowers but no seeds.
The research team was able to germinate the radish, cress and rye seeds, suggesting that the production of self-sustaining crops was a possibility.
While the total biomass of the Earth and Martian material were similar, the yield from the lunar regolith was significantly lower.