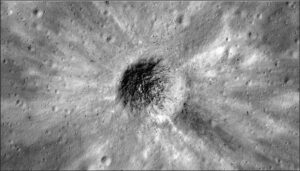 In 1954, 34-year-old Ann Hodges was napping at home in Sylacauga, Alabama, when a nine-pound meteorite smashed through her house's ceiling, bounced off a radio, and hit her thigh, leaving a nasty bruise. She is the only person in recorded history to have been struck by a meteorite. The odds about getting hit are about one in 840 million. It helps that most space rocks — an estimated 95% — burn up in the atmosphere.
But what about the Moon where there is no atmosphere?
Bill Cooke, head of NASA's Meteoroid Environment Office — located in Alabama, as it turns out — has made the calculation. "The odds of an astronaut being hit by a millimeter-sized object is like 1 in 1 million per hour per person," he tells LiveScience
That's pretty infrequent — but a lot more common than the comparable odds on Earth.
The quantity cannot be calculated for "impactors" smaller than a millimeter, but Cooke estimates that between 11 to 1,100 tons — the mass of 5.5 cars — of dust collide with the Moon daily, LiveScience reports.
Cooke is more definitive about larger rocks. "There are about 100 pingpong-ball-sized meteoroids hitting the moon per day," he says.
That adds up to roughly 33,000 meteoroids per year of a size sufficient to impact the lunar surface with the force of 7 pounds of dynamite.
Larger meteoroids hit the Moon too, but less frequently. A rock as big as 8 feet across plows into the Moon about once every four years on average, releasing roughly 1,000 tons of TNT-equivalent energy. The flash of light can be seen from Earth.
Given that that Moon's surface is about 14.6 million square miles, Cooke says, "If you pick a square kilometer patch of ground, it will be hit by one of those pingpong-sized meteoroids once every thousand years or so."
Let's do some extra numbers crunching. Let's say the Moon has been colonized and has a million inhabitants. And let's say that, while most people spend most of their time in sheltered environments, at any given time 1,000 people are wandering about on the surface doing one thing or another. Using Cooke's estimate, in any given hour, there would be a one in 1 thousand chance of someone being struck by a millimeter-sized meteoroid — which is big enough to kill. Over the course of a 24-hour day (that's Earth days, not Moon days), there would be a 2.4% chance of someone getting clobbered. Over the course of a year, those numbers would mount to eight to nine people getting the Ann Hodges treatment.
There are likely bigger hazards on the Moon, but meteoroids are not to be ignored.