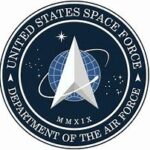 An important duty assumed by the embryonic U.S. Space Force will be tracking objects in cislunar space (the area between the Earth and Moon). The Air Force Research Laboratory's Space Vehicles Directorate is now investigating technologies to undertake the task, reports Space News.
"It's a brave new world for the [Department of Defense] to embark on," said Capt. David Buehler, manager of the AFRL experiment named CHPS, for Cislunar Highway Patrol System. Said he:
"If we're going to protect and defend, the Space Force is going to need to understand the environment, have space domain awareness capabilities to be able to know where everything is out there."
Tracking objects in cislunar space presents significant technical challenges. One is estimating the trajectory objects that are subject to the gravity of both Earth and the Moon. Said Buehler: "As you go further and further beyond GEO, you start to have these weird, non-closed trajectories, they no longer look like orbits, they're more open-ended trajectories."
The distances are vaster than tracking objects in Earth orbit, and the brightness of the Moon creates problems for sensors.
Cislunar space surveillance is a "big-data problem," says Maj. Gen. John Shaw, commander of space operations at U.S. Space Command. "It's going to require many, many sensors and the fusion of data to present a picture, and predictive analytics to deliver an idea of what's going on in the lunar sphere."
Objects in cislunar space today are few in number, mainly research satellites and scientific probes. But the count will grow as the U.S., Chinese and other nations begin exploring and colonizing the Moon.
Major investments will be needed in communications and navigation systems for cislunar space, says Doug Hendrix, CEO of ExoAnalytic Solutions. "We would like to see the U.S. government pay serious attention to this."