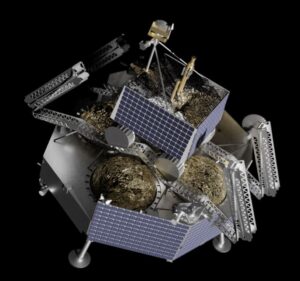 NASA has selected Astrobotic to deliver a water-hunting robot to the Moon's surface in late 2023, the company has announced. The 13-year-old Pittsburgh company was awarded a $200 million fixed-price contract to build and test a lander spacecraft that can transport NASA's 1,000-pound robotic rover, VIPER, to the Moon.
The Griffin lunar lander is Astrobotic's medium capacity lander product line, and is capable of delivering up to 500 kg of mass to the lunar surface.
Said Astrobotic CEO John Thornton: "Astrobotic's lunar logistics services were created to open a new era on the Moon. Delivering VIPER to look for water and setting the stage for the first human crew since Apollo embodies our mission as a company."
Only three countries — the U.S., the former Soviet Union, and China — have developed vehicles capable of a soft landing on the Moon.  NASA hasn't sent such a mission with either humans or robots since the Apollo program. The plan is for VIPER to spend 100 days on the Moon searching for water ice.