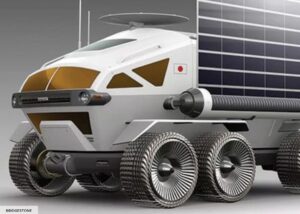 Vehicle maintenance on the lunar surface will be a significant challenge for explorers and colonists. Lunar regolith, a mix of dust, rock and debris, is superfine, ultra-abrasive, and can lodge itself in the tiniest crevasses. Not only that, but it carries an electrostatic charge. Bridgestone, the Japanese tire company, is looking ahead… far ahead… at the market opportunities. The company is working with the Japan Aerospace Exploration Agency (JAXA) to develop a specialized rover, reports Popular Mechanics.
JAXA's rover will shuttle up to four astronauts and could log as many as 6,000 miles on the lunar surface, compared to 22 miles reached by the Apollo-era rovers.
The Apollo rovers were coated in a mesh of zinc-coated piano wire and wrapped in titanium treads. Bridgestone has revealed a wheel design consisting of two lobes of braided steel woven together — inspired by the toes of a camel.
"It's biomimicry," Bridgestone America's chief technology officer, Nizar Trigui, told Popular Science. "The pattern helps the tire carry the load without penetrating too deeply into the sand."
The new tire design is being tested under simulated lunar conditions with crushed lava rock and broken glass.