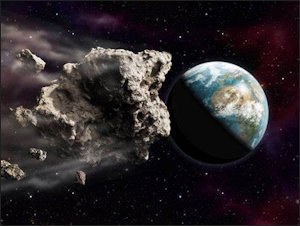 Roscosmos, the Russian space agency, plans to install a nuclear-powered observatory on the south pole of the Moon to help spot meteorites on a collision course with Earth, reports the U.K.'s Express.
The base will operate in conjunction with asteroid-hunting telescopes to survey potentially hazardous space rocks.Said Alexander Bloshenko, executive director for science and long-term programs, "There are plans to install equipment on this base to study deep space — and special telescopes to track asteroids and comets that pose a danger of colliding with Earth."
The base, he said, also will be used for Russia to test space-faring equipment. Cosmonauts will be sent only "to do the tasks that the robots are incapable of doing."
A South Pole location has been selected for its favorable conditions, in particular sufficient light to power solar panels and craters containing ice reserves for fuel and raw material.