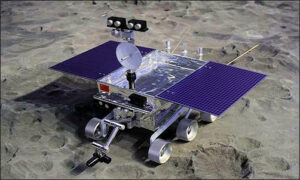 While Americans fixate on the Moon as a launchpad for scientific research and exploration, the Chinese have begun thinking of the orb as an integral part of an Earth-Moon economic zone. Bao Weimin, director of the Science and Technology Commission of the China Aerospace Science and Technology Corporation, shared his thoughts on the Moon's economic potential at a seminar on space economy Wednesday.
Bao pledged to complete basic research and make a breakthrough on key technologies before 2030, and establish a transportation system by 2040, according to Global Times. The publication quote "insiders" as saying the zone could generate $10 billion a year in economic activity.
Writes Global Times:
"In May 2018, China launched a relay satellite to set up a communications link between the Earth and the then planned Chang'e-4 lunar probe, which accomplished the first-ever soft landing on the far side of the moon in January. Chinese scientists and engineers hope the Queqiao satellite will form a communications bridge between controllers on Earth and the far side of the moon.
"Aerospace fans predicted that the plan will accelerate many important projects, including the Long March-5 carrier rocket, China's largest launch vehicle, which is expected to be used to send the Chang'e-5 probe in 2020 to bring moon samples back to Earth, and China's heavy-lift carrier rocket, the Long March-9, which is expected to make its first flight around 2030 and will support manned lunar exploration, deep space exploration and construction of a space-based solar power plant."
The article made no mention of what industries would be capable of generating $10 trillion of economic activity.