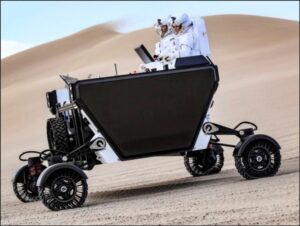 California-based Venturi Astrolab has built a working prototype, tested in the American desert, of a rover, called FLEX, that is capable of transporting astronauts and cargo in support of lunar activities and experiments.
If selected by NASA, FLEX will support the Artemis program goal of establishing a long-term base on the Moon.
"Once you get there, you've got to be able to move things around," said retired Canadian astronaut Chris Hadfield who test-drove the vehicle, as reported by VOA Learning English. "You also need to transition the equipment that keeps you alive and that enables the activities."
"When we settle somewhere," he added, "we don't just need to get people from one place to another, but we need to move hardware, cargo, life support equipment and more."
Astronauts operate FLEX by standing in the back and controlling it with a joystick. The 400-kilogram vehicle can carry loads of up to 1,500 kilograms and, with battery-powered batteries, can operate continuously for up to eight hours. The energy-storage system can survive the extreme cold of lunar nights and operate in total darkness.
The Apollo 17 rover set a Moon speed record of 17.7 kilometers per hour. FLEX can move just as fast. Said Astrolab chief Jaret Matthews: Such a speed is a "practical limit for the Moon" where gravity is one-sixth that of Earth.