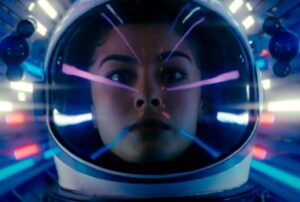 Nearly 90 of this year's roughly 1,000 Air Force Academy graduates will become commissioned officers in the newly created Space Force. Some are  members of an academy group, the Institute for Applied Space Policy and Strategy (IASPS), which features weekly speakers and formal research projects. The group, according to Science, is dedicated to gaming out the policies and philosophies that could guide military space activity.
One big question cadets ask is if the Space Force might someday have a military presence on the Moon. Such a thought might conflict with the pacifist worldview of many scientists, who regard cislunar space as a place for commerce and scientific inquiry, but in a world driven by geopolitical competition, someone needs to be thinking about it. In an interview with Science, IASPS President J.P. Byrne, who will graduate in 2021, offered a number of insights in the realm of "astropolitics."
How can the United States, he asks, best mitigate the problem of space debris through space situational awareness and space traffic management.
Will mining be realistic, and if so when?
Will deterrence in space reflect deterrence on Earth? If something happens to a satellite in space, does that warrant a space response or an Earth response?
Will it be necessary, or even possible, for the military to sustain a presence on the Moon?
"The group was really interested in finding out what future role Space Force might have on the military-on-the-Moon concept 20 years or so down the line," says Byrne. "Intergovernmental agency cooperation is paramount to having some future lunar base. Maybe [in this scenario], Space Force would select astronaut candidates who would complete training through NASA."