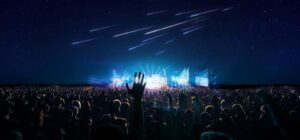 Lena Okajima, founder of Japanese startup ALE, dreams about creating manmade shooting stars as a form of mass entertainment and scientific research, reports Japan Brandvoice in Forbes.
Okajima, who earned a PhD in astronomy at the University of Tokyo and worked at Goldman Sachs for a year, began researching the idea in 2009 after witnessing the Leonids meteor shower. Today ALE has about 30 staff and has raised some $26 million from Hong Kong-based Horizons Ventures and other investors.
ALE has developed microsatellites that will release 1-centimeter particles that will ignite as they move through the atmosphere. Up to 20 particles will burn in different colors, and the display will be visible on the ground within an area measuring 200 kilometers across — much large than the typical 10 kilometers for fireworks. The shooting stars can be deployed anywhere in the world.
"Our shooting stars can last longer than natural ones because they may be slower," says Okajima. "It will be entertainment on an unprecedented scale."
ALE is preparing for its first near-space testing with a rocket launch from New Zealand. In the meantime, ALE is developing another business — gathering information about the mesosphere (which lies between the thermosphere and the stratosphere) — and working with the Japan Aerospace Exploration Agency (JAXA) on a satellite tether system to mitigate the growing problem of space debris.
Among the clients ALE hopes to work with: theme parks, cruise lines, and large-scale event organizers.