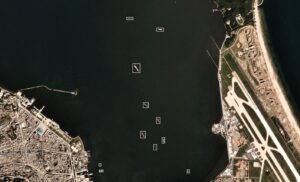 As the cost declines of launching Earth-observing satellites into orbit, space enterprises hope to grow the market for the sale of space-based data. So far, customers have been limited mainly to government customers and sophisticated, high-paying users like oil & gas companies. The market potential could grow to $7 billion from about $3 billion, North Sky Research senior analyst Dallas Kasaboski told Axios.
Some of the companies active in this arena include:
Planet. With 150 satellites in orbit, Planet can image anywhere on Earth's landmass at 3- to 5-meter resolution on a daily basis. "Our goal to make satellite imagery universally useful to everyone by indexing the objects in every image and developing a database of not just images, but the physical objects in those images," said a Planet spokesperson. As a concrete example, the Planet website shows the progress of reconstruction of the Oroville Dam emergency spillway after damage from heavy winter rain.
Spire. Spire analyzes its own data for customers interested in weather systems, resource management and other applications. One application described by the corporate website is using satellite data to manage ocean-going vessels and plan better routes.
Hyergiant. By bringing all elements under one roof — design/build, license/test, launch/deploy, operate, and replenish — Hyergiant's Galactic Systems division can provide what it calls Constellation-as-a-Service and deliver space-derived data.