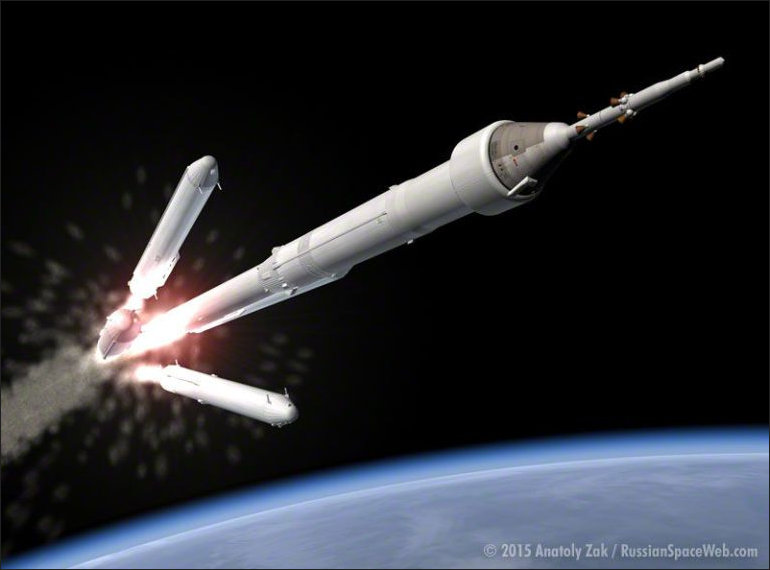 Western economic sanctions following the annexation of Crimea and war in Ukraine have forced the Russian Federation to curtail its space program. But putting cosmonauts on the Moon is one goal that Russian space strategists refuse to give up,
Last week, reports Popular Mechanics, President Vladimir Putin signed a decree that transforms the government agency of Roscosmos into a state corporation, similar to the nuclear conglomerate Rosatom. Meanwhile Russian engineers have been working on plans to revive the old Soviet dream of landing cosmonauts on the Moon.
Lunar expeditions would use four cheaper Angara boosters, which would pay for themselves by delivering commercial and military satellites in addition to flying cosmonauts. The expeditions would be cheaper than those planned by NASA with its behemoth SLS rocket, which is too big for most commercial purposes. According to Popular Mechanics, the Russian Moon-exploration program would proceed as follows:
"Unmanned flight testing of the new spacecraft in Earth orbit would start in 2021, followed by an automated docking at the International Space Station in 2023. In the same year, the first crew would fly the new ship to the ISS.
"In 2025, the new Russian spacecraft would be ready to make its first flight beyond the Earth's orbit without crew. [A] year later, the lunar module designed to take cosmonauts from the lunar orbit to the lunar surface would also make an unmanned test flight. By that time, a pair of Russian robotic landers, currently under development, is expected to pave the way for human explorers.
"By 2027, the first Russian crew is scheduled to venture into deep space and reach the lunar orbit, matching the feat of NASA's Apollo 8 mission in 1968. Finally, in 2029, the first Russian cosmonauts would land on the Moon. Four more expeditions would follow through 2035. From the outset, each manned landing would be preceded by the delivery of a habitable module to the lunar orbit and then to the lunar surface."