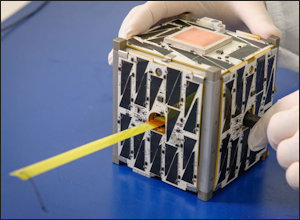 The SpaceTrex lab at Arizona State University is partnering with NASA to create a tiny satellite, called the CubeSat, designed to measure and locate water on the Moon in the Lunar Polar Hydrogen Mapper or "Luna-H Map" project.
The competition is intense to be included on mission payloads. CubeSats are small enough, writes Popular Science, that they can hitch rides on rockets with larger payloads and get released on their own trajectories to conduct their own science. The first official launch of NASA's Space Launch System and Orion spacecraft, scheduled for 2018, will carry 11 separate CubeSat missions into deep space, including one that will measure the effects of space radiation on yeast. The spacecraft will drop off LunaH-Map potentially along with two other lunar CubeSats to settle the question of how much water there is on the Moon and where it is.
The question for lunar water has strategic significance that the other scientific endeavors, as interesting as they may be, do not have. As Popular Science notes, lunar water will fuel exploration deeper into the solar system.
Jekan Thanga, the head engineer on LunaH-Map, dreams of a lunar gas station for astronauts. "Just think, we could have a refueling station at the L2 point," he says, referring to a point beyond the Moon where gravitation alignments would allow supplies in space to remain stationary. "Our astronauts could stop there to refuel and stock up on supplies before heading out to Mars, or Europa."
Since 2000 more than 300 CubeSat missions have been deployed in Earth Orbit, including the Planetary Society's LightSail this year.