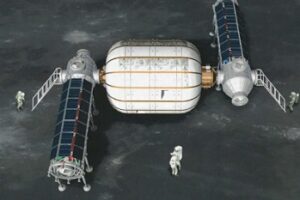 Property rights are essential in order to establish a space industry operating  beyond Low Earth Orbit,  says Robert Bigelow, president of Bigelow Aerospace, and he's seeking clarification from the Federal Aviation Administration's Office of Space Transportation (AST) on whether a Moon habitat would have a zone of operation in which other persons are prevented from entering.
In December, Bigelow asked AST to confirm that no future AST license would interfere with the operations of a Bigelow habitat, Director of D.C. Operations Mike Gold told NASA Spaceflight.
The International Space Station has a zone of operation, extending extends 200 kilometers from the station, that keeps out all manned or "mannable" objects. According to Gold, a zone of operation on the Moon would be organic, varying in size depending upon the circumstances. It would be small for a robotic payload and larger for a human payload such as a habitat.
Defining property rights is critical to developing the Moon, says Bigelow.
"(It is) nearly impossible at this time to identify exactly what activities will sustain commercial industry on the Moon, mining of resources such as Helium-3, mining rare earth elements, or leveraging fields of solar arrays for power generation are all possibilities.

Bigelow notes that regardless of whether these ideas come to fruition or not, the granting of property rights could lead to substantial non-governmental funds being invested in space on the basis of the potential that exists for future development.

During the press conference that followed the release of the Gate 2 Report, Bigelow mentioned that he believes that extracting resources from the Moon makes more sense that extracting them from an asteroid.

"People talk about harvesting an asteroid, well, the Moon has been bombarded for billions of years by asteroids especially, the back side of the Moon. So there is probably no material that an asteroid has ever contained that isn't somewhere on the Moon."